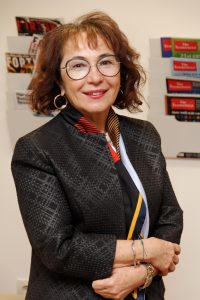 Welcome to the Faculty of Business Administration of Bilkent University!
The Faculty of Business Administration is an excellent research and teaching institution guided by the founding principles of Bilkent University serving the business and academic communities nationally and worldwide. Our AACSB International (Association to Advance Collegiate Schools of Business) accreditation, initially received in April 2006 as the first school in the country to do so, attests to our strengths and achievements in education, research and societal outreach. We are very proud of our standing in this regard, as only 5% of the business schools around the world have received this accreditation. We value highly our collaborations with the AACSB accredited sister institutions and other partners in the NIBES network.
I am honored to be a part of this unique business school!
Our degree programs at the undergraduate, MBA, Executive MBA, Specialized Masters and PhD levels are recognized as among the best and sought after by students and employers alike. Growing from a business school with only 24 undergraduate students and five MBA students in 1986, we have become an institution of about 1000 undergraduate students, over one hundred graduate students in the MBA, Executive MBA and the MS/PhD programs with around 5600 of alumni/ae. Over the years, six of our faculty members have received the Excellence in Teaching Award of Bilkent University.
With a continuous improvement perspective, the FBA is dedicated to maintaining and raising its high standards in quality education and research by moving with solid steps to achieve its mission which emphasizes serving  academic and business communities locally and globally through creation of knowledge and education of professionals in business administration.
Our faculty expertise includes, but is not restricted to, areas such as finance, operations management, marketing, decision analysis and organizational behavior.  The faculty members of FBA are active and prolific in their research output in terms of peer-reviewed journal articles, books, book chapters and research grants. The vast majority of their high-impact research is in the prestigious SCI/SSCI –indexed journals and are written with international co-authors. Many of our faculty have recently been recognized for their contributions by best paper awards and their research is funded by national or international organizations.
The FBA is also proud and privileged to host faculty members who received TUBITAK Young Scientist Award, TUBA Young Scientist Award and BAGEP Science Award.
We strongly emphasize global outreach of our students and encourage them to interact with students in other countries via a comprehensive set of exchange programs. Each year about one-third of our undergraduate and MBA students participate in such programs to explore, engage with and benefit from the best business schools across the world.
With our smart and diligent students, dedicated high-caliber faculty and motivated business partners, we believe that Bilkent FBA community will grow further in serving the talents needs of the business world.
As I invite you to visit our webpages and get to know us better, I want to take this opportunity to reach out to our students, their parents and our alumni/ae to express my willingness to engage in active dialogue with all of our stakeholders to take the Faculty of Business Administration to newer heights.
Thank you for your support and I wish you all the best.
Professor Ülkü Gürler
Dean