Bilkent Management & Economics Community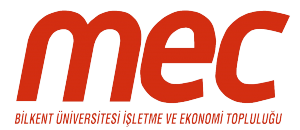 Bilkent Management and Economics Community (MEC) is actively working since 1988. In the past 5 years, MEC had over 1000 members. Throughout these 5 years MEC accomplished 237 events. These events can be separated into three categories: case events, camp events and career fairs. Career fairs were done in the campus. The content of these events had a big diversification. MEC hosted Mansur Yavaş (the major of the capital of Turkey), but also hosted C-level employees of international companies. The case events were done in all over Ankara. The prizes were mostly MBA-scholarship or internships at international companies. The camp events were done in 2 cities of Turkey. These events were done in İstanbul and in İzmir. The content changed from the location of the event. In İstanbul the students either stayed in an hotel, where they participated in seminars in the day-time and solved cases in the night time. They also visited the headquarters of firms in Istanbul. In İzmir, the participants visited factories or facilities of big firms. The camp events were also done in abroad. MEC visited Amsterdam and London over the past 2 years, and visited the offices of international firms in those cities. MEC had over 10.000 participants in their events over the past 5 years. Through these events participants from the Bilkent University, especially FBA students had the chance of making a big step into their career lives. They extended their network and also got the chances of internships in big firms. The club members enhanced and also created soft skills, which only can be achieved by extra-curricular activities.
MEC Events 2021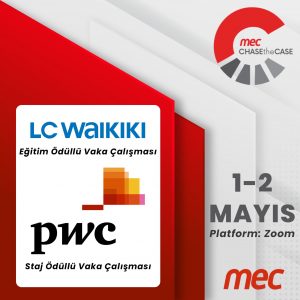 Chase the Case geliyor!
1 – 2 Mayıs tarihlerinde gerçekleşecek etkinliğimizde CV elemesi ile seçilen 2., 3. ve 4. sınıf öğrencileri ile buluşacağız. 2 gün sürecek etkinliğimizde vaka analizini deneyimlemek ve bu süreç sonunda staj ödülünü kazanmak istiyorsanız sizleri de etkinliğimize bekliyoruz! Başvurularınızı grup ya da bireysel olarak altta ki linkten yapabilirsiniz.
https://docs.google.com/forms/d/1wte6Yn3w3ylUGjdCEExpO6Q1P4vPuiuZClAlKXj4E2I/viewform?edit_requested=true&pli=1