2019
Our undergraduate student Mustafa Yazar won an Innovation Award with his team!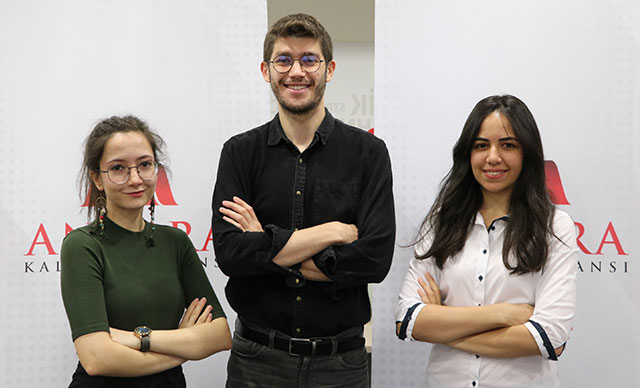 A project designed by Bilkent alumni Zeynep Akın (PSYC '17), Mustafa Yazar (MAN '19) and Melike Yüksel (IAED '18) won an Innovation Award at the recent Digital Transformation for Disabled and Elderly People Symposium organized by the Ministry of Family, Labor and Social Services. The award's purpose is to promote practices that can facilitate the lives of disabled people and improve their quality of life in the digital world. The Bilkent graduates' project, a website called PinGOin, helps disabled people participate more actively in social life. The details are here.
2017
2016
Management Students Win L'Oréal Brandstorm in İstanbul

A team of Department of Management senior students, Nemide Zeynep Işık, Yağmur Çınar and Zeynep Karaağaçlıoğlu, have taken first place in the national final of the 2016 L'Oréal Brandstorm marketing competition, held in İstanbul on April 15. Second place also went to a Bilkent team, made up of senior Management students Gizem Kaplan, Çağla Kuzu and Nehir Tuna. The details are here.
2015
Management Students Are Winners in Google Marketing Challenge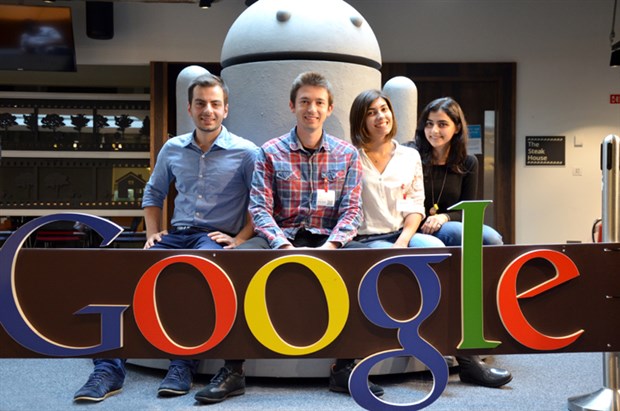 A team of students from the Department of Management, Akif Karaismailoğlu, Arda Akat, Nihal Tokluoğlu, Nur Betül Özdemir and Hansa Kaya, have received a top award in this year's Google Online Marketing Challenge. The challenge is an opportunity for students to experience and create online marketing campaigns using Google AdWords and Google+. Over 100,000 students and professors from almost 100 countries have participated during the past eight years. The details are here.
2014
Management Student Named Top Google Student Ambassador in Europe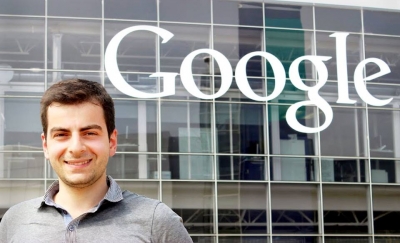 This year's Google Ambassador (GSA) program in Europe brought together 57 students from 26 countries and 54 universities.
Akif Karaismailoğlu (Management/III) was one of them, serving as Bilkent's Google Student Ambassador during 2013-2014.
Google Student Ambassadors have the unique opportunity to act as a direct link between Google and the students on their campuses, for whom they can hold workshops, training sessions and events exploring Google's core products, programs and initiatives. At the end of their year of service, the most active ambassadors are awarded a trip to Google's San Francisco office.
Among the GSAs to receive this recognition was Akif, who was selected as the top Google Student Ambassador of the year in Europe. Google flew him to Mountain View, Silicon Valley, in the US at the end of July to host him as the only non-American participant at this year's GSA summit.
"It was an amazing experience for me to work for my childhood's dream company, even though it was for only a year," Akif commented in regard to his ambassadorship.
"After I was selected as a GSA last year, we worked hard and organized 14 events with more than a thousand attendees, thanks to my wonderful friends from the Google Student Events team on our campus. I have learned that sometimes even when it seems hardest to succeed, all you need to do is devote yourself to your work, and as you pursue excellence, success will follow."
Two MBA students of Bilkent FBA have achieved a ranking that has vaulted them into the global Bloomberg Hall of Fame.
In April 2014, Burak Memis and Gokhan Tufan were the only Turkish students to be listed in the Bloomberg Hall of Fame onto Europe's Top Five list. The BAT is a standardized, two-hour online test designed by the Bloomberg Institute in collaboration with leading academics and business professionals to assess the finance knowledge and career aptitude of college and university students. Over 100,000 students have taken the BAT from over 1,000 universities around the world.
2013
FBA Team "Aces the Case" in İstanbul, Will Represent Turkey at International Competition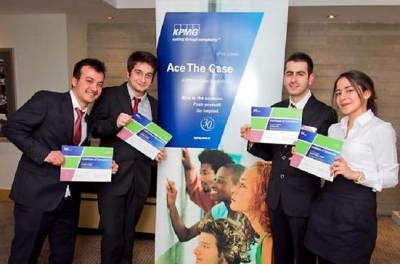 The "Bilkenters," a team of fourth-year students in the Faculty of Business Administration, have won the 2013 KPMG "Ace the Case" business case analysis competition held in İstanbul February 14-15. The Bilkent students, who competed against teams from Boğaziçi, Middle East Technical, Koç, Sabancı and Dokuz Eylül universities, will now be representing Turkey in KPMG's International Case Competition, to be held April 2-5 in Madrid, Spain.
Sponsored by the international professional services firm KPMG, "Ace the Case" is a two-day workshop, targeted primarily at junior- and senior-year students in economics, administrative sciences, or industrial and/or management engineering, as well as master's students in economics or business administration, with a long-term interest in pursuing a career in auditing, tax consulting or similar business consulting services.
Students participating in the competition get the opportunity to collaborate and compete in a business environment where they can benchmark their business skills against other top students and make new friends and network with professionals and leaders.
During this year's event, teams were given an international business scenario and three hours to work together on a business problem in real time. They were coached and guided throughout the day in order to ensure that they were on the right track. Their task was to come up with recommendations and present those recommendations to business leaders, represented by the jury for the competition. Jury members were KPMG Corporate Finance Partner Hande Şenova, Human Resources Director Seden Kundakçıoğlu, Transaction Services Director Ümit Bilirgen and Tax Director Hakan Güzeloğlu.
The Bilkenters were chosen from among the many talented teams participating in the event on the basis of their demonstration of an impressive array of skills as well as effort and teamwork. The team consisted of Alican Gül, Burak Akgül, Caner Şenol and Zeynep Gizem Akkaya.
2012
Product placement Team which is composed by the students of Bilkent University won L'Oréal Brandstorm National Final 2012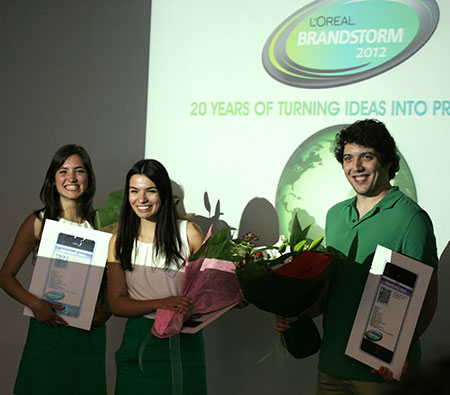 The students of Bilkent University, namely Onur Osmanoglu, Hazal Yuksel, and Ozge Tezcan won "Brandstrom National Final" which is organized by L'Oréal and regarded as one of the venerable worldwide marketing competition, among 4 strong components from METU, Bogazici University, and two groups from Koc University. Our students will compete in the International Final, which the winners of the national finals of 45 countries will be in the contest.
L'Oréal Brandstorm is a competition that appeals to successful students who would like to have a career in marketing field. The jury, which is composed of the high level managers in L'Oréal Turkey, and repected members of the mentioned universities have chosen the group "Product Placement", the team which is representing Bilkent University in the National Final, which was held on May 11, 2012.